RT/RTR and RJ/RJR series trim pots are made to military specifications and are listed on the QPL (Qualified Parts List). Which simply means that they are on a government approved list of parts that are approved for government and military use. RT/RJ series trim pots are made to the MIL-PRF-22097 and the RTR/RJR series trim pots are made to the MIL-PRF-39035. The major difference between RT/RJ and the RTR/RJR series is that the RTR/RJR trim pots are offered with a failure rate. A failure rate is the frequency at which a component fails during testing over a set period of time. RTR/RJR series of trim pots are offered in three failure rate levels:
Note: Failure per 1000 hours of testing
M = 1.0%
P = 0.1%
R = 0.01%
Although the RJ/RJR series and the RT/RTR series look pretty much identical, they have two different restive elements used for the resistive track that the wiper follows.
RT/RTR = Wirewound
RJ/RJR = Cermet
Please note that we at Federal Connectors recommend the RJ/RJR series trim pots over the RT/RTR series trim pots. Due to the RT/RTR series slowly becoming obsolete, there has been an increase in price of trim pots in that series. Another factor to take in consideration is longer lead times for trim pots that are out of stock from the RT/RTR series.
All the series of trim pots mentioned above are a sealed style trim pot, which means that the resistive track and the wiper are covered by a protective material. These trim pots are available in a wide variety of resistance ranges. Depending on the series, these trim pots they may either have a temperature rating of -55°C to 150°C or -65°C to +150°C. Since trim pots are designed for making small adjustments to electrical circuits and are usually mounted to a PCB (Printed Circuit Board), they relatively have a low rotational life. Both the RT/RTR and the RJ/RJR series of trim pots are rated at 200 cycles (For more info take a look at the spec. tables below). Differentiating between manufactures is relatively easy, Bourns trim pots are blue in color and VRN trim pots are green (As shown in the images below).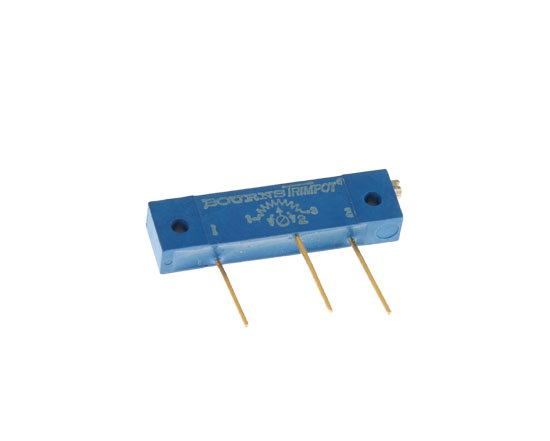 RT12 - Bourns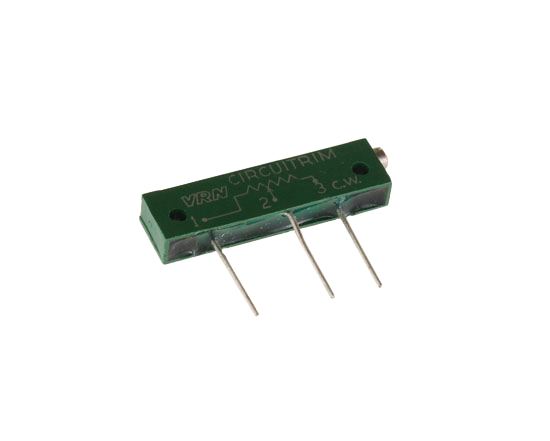 RT12 - VRN
RT/RTR Specifications
Series
Mil-Pref
Power Rating
Size (in")
Standard Resistance Range
Absoulute Minimum Resistance
Temp. Range
Adjustment Travel
Torque
RT12
MIL-PRF-27208
70°C 1 Watt
1 1/4
10 - 20K ohms
0.1% or 1ohm max
-55°C to +150°C
22 turns nominal
5.0 oz-in. max
RT22
MIL-PRF-27208
85°C 0.75 Watt
1/2"
50 - 20K ohms
0.1% or 1ohm max
-65°C to +150°C
25 turns nominal
5.0 oz-in. max
RTR22
MIL-PRF-39015
85°C 0.75 Watt
1/2"
500 - 20K ohms
0.1% or 1ohm max
-65°C to +150°C
25 turns nominal
5.0 oz-in. max
RT24
MIL-PRF-27208
85°C 0.25 Watt
3/8"
10 - 10K ohms
0.1% or 1ohm max
-65°C to +150°C
25 turns nominal
5.0 oz-in. max
RTR24
MIL-PRF-39015
85°C 0.25 Watt
3/8"
500 - 10K ohms
0.1% or 1ohm max
-65°C to +150°C
25 turns nominal
5.0 oz-in. max
RT26
MIL-PRF-27208
85°C 0.25 Watt
1/4"
10 - 5K ohms
0.25% or 1ohm max
-55°C to +150°C
11 turns nominal
3.0 oz-in. max
RJ/RJR Specifications
Series
Mil-Pref
Power Rating
Size (in")
Standard Resistance Range
Absoulute Minimum Resistance
Temp. Range
Adjustment Travel
Torque
RJ12
MIL-PRF-22097
70°C 1 Watt
1 1/4
10 ohms - 1 megohm
1% or 2ohms max
-55°C to +150°C
22 turns nominal
5.0 oz-in. max
RJ22
MIL-PRF-22097
85°C 0.25 Watt
1/2"
10 ohms - 1 megohm
1ohm max
-65°C to +150°C
25 turns nominal
5.0 oz-in. max
RJ24
MIL-PRF-22097
85°C 0.50 Watt
3/8"
10 ohms - 1 megohm
2% or 20ohms max
-55°C to +150°C
25 turns nominal
5.0 oz-in. max
RJR24
MIL-PRF-39035
85°C 0.50 Watt
3/8"
10 ohms - 1 megohm
2% or 2ohms max
-55°C to +150°C
25 turns nominal
5.0 oz-in. max
RJ26
MIL-PRF-22097
85°C 0.25 Watt
1/4"
10 - 1 megohm
2% or 20ohm max
-65°C to +150°C
12 turns nominal
3.0 oz-in. max
RJR26
MIL-PRF-39035
85°C 0.25 Watt
1/4"
10 - 1 megohms
2% or 2ohms max
-65°C to +150°C
12 turns nominal
3.0 oz-in. max
RJ50
MIL-PRF-27208
85°C 0.50 Watt
1/4"
10 - 1 megohms
1% or 2ohms max
-55°C to +150°C
1 turn (240°) nominal
5.0 oz-in. max
RJR50
MIL-PRF-39035
85°C 0.50 Watt
1/4"
10 - 1 megohms
1% or 2ohms max
-55°C to +150°C
1 turn (240°) nominal
5.0 oz-in. max